X
Let Us Call You Back
Your phone number is kept confidential
and not shared with others.
---
SUGARWISH – A GIFTING WEBSITE DESIGN SERVICES
A Gifting Website design and developed using Laravel
Last project
Next project
SUGARWISH

A GIFTING WEBSITE DESIGN SERVICES

suggerwish.com is a most recognized brand that allows us to create a custom one or more giftboxes to send your friends, colleague, relative, or loved ones along with the grittings eCart feature for different occasions. We develop a customer experience gifting website and ended up in the HAPPINESS business. Over the past few years, suggerwish has experienced explosive growth both as an organization and in popularity. While their previous website had done a great job of helping them get to this point, ultimately, it was falling short of their customer's expectations and limiting their possibilities for future D2C expansion.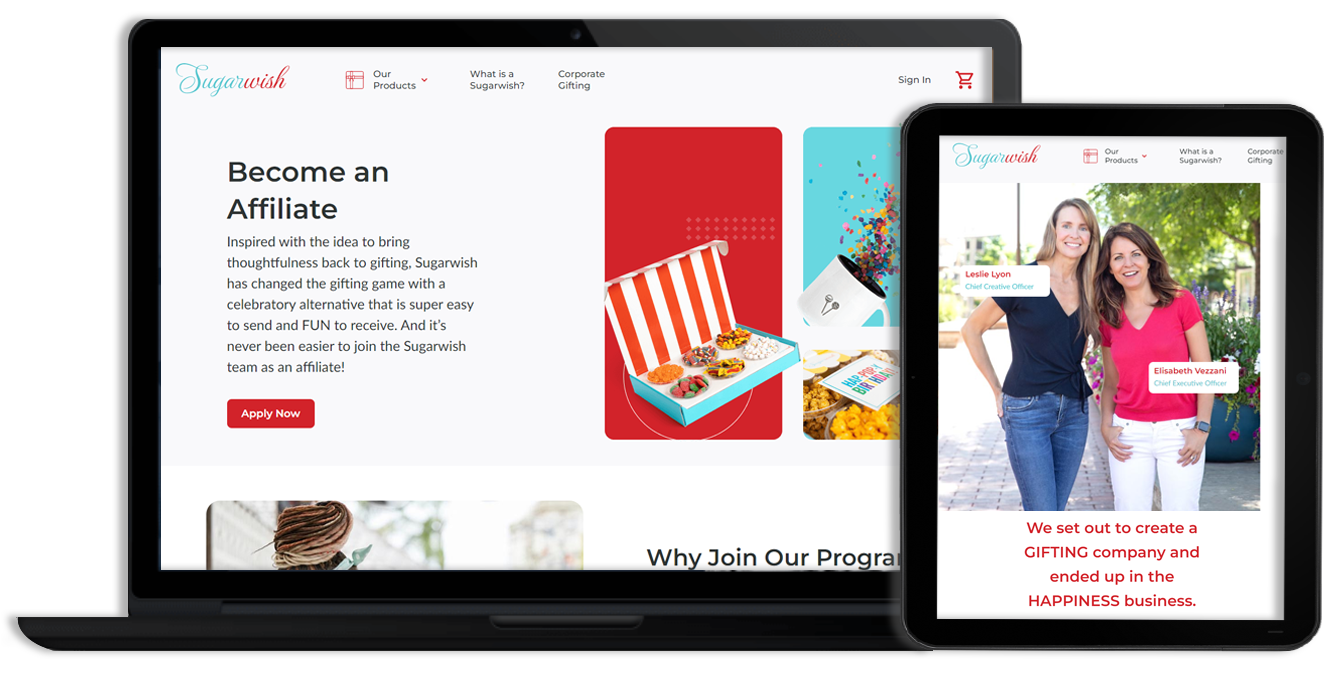 chalange
Each Product detail Page is set up with the capability to allow the potential customer to select how many products they would like to add with giftbox eight, sixteen, or twentyfour products in each box. Each product's image changes once scrolled over which entices potential customers to take a further look at the product and direct them to the Product Page of said product. They get to pick their favorites to go into their Sugarwish gift box, which we ship right to their door. Receive exclusive corporate gifting options. The ability to upload emails for large orders
DESIGN
We used harmonious combinations of colors and shapes, fonts and symbols in the design solution. All that was complemented with smooth animations and elements that were hovered, which altogether created an effect of interactivity
DESIGN
We used harmonious combinations of colors and shapes, fonts and symbols in the design solution.
DESIGN
We used harmonious combinations of colors and shapes, fonts and symbols in the design solution.
SUGARWISH
A Gifting Website Design Services
Features
Functionality and user experience are key to users staying on a website for long periods, and the longer they stay on an eCommerce website the more they are willing to make a purchase.
Users can select giftbox sizes and create custom giftbox by adding products from one or different categories.
Users can also create custom greetings eCart along with giftbox and send them through email.
Users can upload emails in bulk to send greetings eCart in bulk with a bulk giftbox.
Pay with cards issued by any major credit card company or with PayPal.
Seamless checkout process.
chalange
Sugarwish has several custom options to create giftbox, and greetings with a message, bulk email uploads for bulk orders, monthly billing, and volume discounts. Due to this, the backend of their website was difficult for them to navigate and handle. To combat this we helped them to minimize their backend to better reflect their frontend which was organized and well thought out. After all, when you feel good on the inside, you look good on the outside!
What We Did
Digital Strategy
UI/UX Website Design
Website Development
Design & Development
Platform
Laravel Framework – Gifting website design Services
View Live Site
Here you can look, at how our app frontend is looking.
SUGARWISH – A Gifting app development service. We build a mobile app to sell gifts with customization.